Call 610.767.9500 
IT services that are fast, honest & done right. Complete on-site services are available for Business. Residentials are welcomed to bring their PCs in for service (Still located locally in Pennsburg, Pa). Business Service plans for businesses with client-server networks.
We are your "Server Specialists".
Business service plans available
Our business service plans are worth it. Complete network management and instant support with one phone call to us. It's as close to having an "in house" IT department you can have at a fraction of the cost. We do all the network administration work from setting new hires, adding workstation, security setup and sharing resources. This includes your copiers, printers and security cameras. If your business is running our Intel servers, we monitor the health, security, backups, licensing and software updates all included with our business service plans.
Microsoft Certified, Over 25 years experience & fully insured. We are also fluent with Mac & Linux.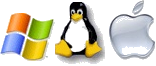 PC Professionals are partnered with Intel®, Seagate®, Netgear® & ESET®. We exclusively use genuine Intel, Kingston, Seagate Components & ESET Anti-virus Products for our Desktops & Servers.