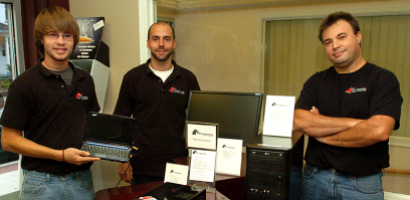 The three people who make up PC Professionals are, left to right, Zackk Neith, Michael Sersen and Michael Neith.
Michael Neith wants to be the first stop for anyone with computer problems in the Upper Perkiomen Valley.
And he thinks he'll be the last stop too.
After seven years of working on business-to-business computer solutions, primarily in the Lehigh Valley, Neith opened PC Professionals at 239 Main Street in East Greenville in July. The goal of the new location is to expand into the residential market by providing local, fast, and knowledgeable tech support for any computer issues.
Since graduating from Allentown Business School in 1998, Neith had worked for computer manufacturing companies and as a network specialist, before combining his knowledge in both areas to found PC Professionals in 2002.
Until earlier this year, when the location in East Greenville was opened, the business had only one employee – Neith himself – who handled everything from building and repairing servers, to data recovery and web security, for a growing number of businesses in the Lehigh Valley and beyond.
Now, PC Professionals wants to bring that tech know-how to the residents of the Upper Perk area.
"We can clean out viruses, get rid of malware and spyware, and even physically clean out the dust that gets inside your computer," said Neith, who has lived in Pennsburg since 2005.
PC Professionals also offers web hosting and email services, as well as basic web development for small business or personal websites, which can include 3-D graphics and animation.
And those services are not limited to only computers running Windows, because Neith and his staff of two – his son, Zakkary Neith, and Michael Sersen – can handle Mac and Linux operating systems just as easily.
"When you call the number on the door, you're always going to get one of us, you don't have to press one for this or press two for that," said Neith, explaining the advantage of using a local business instead of relying on customer service from major computer companies.
Another advantage is the extensive hours that PC Professionals is available – from 9 a.m. until 8 p.m. during the week, and from 9 a.m. to 3 p.m. on Saturday.
If a more exclusive conversation is necessary to get a customer through a certain problem, appointments are available for hour-long sit-downs with Neith or one of his employees at PC Professional's one-on-one assistance bar.
"Education is really something that we focus on. We want our customers to understand the problems and the solutions," said Neith. Most of his residential customers have been individuals who are dealing with virus problems that they have been unable to solve on their own.
Beyond the technical support end of the business, PC Professionals offers refurbished Mac computers for purchase, along with machines that run the Linux operating system that are built on location.
PC Professionals stands behind their sales with an annual software assurance program that allows the buyer to bring their computer in up to five times in the first year for free tune-ups.
Neith says that his venture into residential business has gone well so far, but he plans to allow word-of-mouth and quality of service to bring in more customers.
For more information about PC Professionals, as well as their products and services, please visit www.PCProfessionals.net, or call (267) 923-8132.
Page 1 of 26
See This Week's Edition for These and Other Great Sports Stories:
Perkiomen Football Wins in Final Minute
Phillies Chaplain to Speak at Bonfire
Valley Galaxy Soccer Continue Having a Strong Season
Mohawk Mites Close Out Season with Nail-biting Losses
Area Bowling Results
See This Week's Edition for These and Other Great Stories:
Permit Fees Set to Rise in Red Hill Borough
Light Agenda at Milford Workshop
Decreased Revenues Causing Budgetary Concerns in Trumbauersville
Child's Donation to K-9 Unit Highlights Quakertown Meeting
Lower Salford Township Officials Present 2010 Budget
Police Reports