What we do:
PC Professionals offers customer services to both residential & business. Our shop is located in East Greenville, Pennsylvania where we teach, support, build, sell & repair computers. PC Professionals, Inc. was established in 2001 servicing businesses all over the Lehigh Valley. By 2003, we started offering in-home residential services and over a decade later are still offering them, most without travel charges. Our shop opened in July 2009 and we are grateful to the local area for the wonderful response they have shown us upon opening. View our write up in the Town & Country (2009) and again in NexZest (2016)
Our Staff (Father & Son):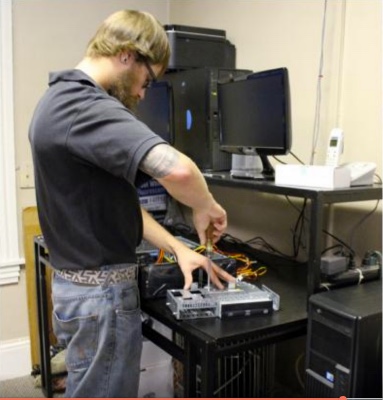 Zakkary Neith
Zakk takes care of customer's computer repairs in the shop. With 7 years hands-on experience, he is skilled in virus/malware removal, rebuilding, diagnosing & troubleshooting your computers with fast turn around times. He can assist you in the purchase of a new computer and if you need assistance in learning new applications call and schedule a one on one with him.
Michael Neith
Michael is responsible for handling all business to business services. He is Microsoft Certified, holds a degree in Computer Networking Technologies & 20 years of hands-on experience in Computer Networking. He is fluent in Windows, Linux & Mac. Mike does wiring, network installation, administration, consulting and support for many business around the Lehigh County, Northampton County & Montgomery County areas. He can assist your business with understanding, purchasing, installation and management of all aspects of your network.
Together we provide all your Information Technology services you may need. We draw our expertise from our past backgrounds managing IT departments in large corporations. Having worked with all aspects of IT/IS, we have built our business around having hands on experience and certifications.  Combined with the never ending learning of new technology we keep ourselves current which gives you the customer the best possible reference for making critical IT decisions concerning your business. The services we offer range from physically networking your office either by hard wiring or wireless equipment then constructing the network model that fits your needs. We configure your servers, workstations, printers and all network equipment in between. After this structure is in place, PC Professionals can install or upgrade any hardware or software your company needs at anytime. We provide any network administration such as network security, shares, permissions, data backups or trouble shooting. PC Professionals can setup and monitor your network from our offices notifying you immediately of any problems as soon as they occur. We provide network security solutions to keep your network safe while still remaining functional. Remote support is one of the most popular services we offer. Partnered with strategic telcom and printer/copier companies, We are the only phone call your office will need to make. We offer small businesses web hosting at affordable prices and web design with your budget in mind. The servers used to host your site are located onsite in our office, on our high speed lines which have 99.97% uptime, being local means no waiting hours or days for a return phone call or email from somebody across the country. Email has become a critical way of daily communications in the office. PC Professionals offers hosting and managing all business email accounts for any size business. There are many benefits to hosting your email with us. We also are beta testing spam killer